Breadcrumb
Site Redesign
Last updated:
Welcome to the latest release of CustomerTrackr! We are excited to introduce a host of new features and enhancements designed to streamline your customer relationship management process, boost productivity, and provide an even more intuitive user experience. This release reflects our ongoing commitment to delivering top-notch solutions that empower your business to thrive in a competitive market. Read on to discover the exciting updates awaiting you.
New Look and Feel
We've undergone a complete visual transformation to provide you with a modern and visually appealing interface. The new look and feel have been meticulously crafted to enhance user engagement and improve overall navigation. Our design team has carefully chosen a harmonious color palette, refined typography, and sleek iconography, creating an interface that is not only aesthetically pleasing but also highly functional.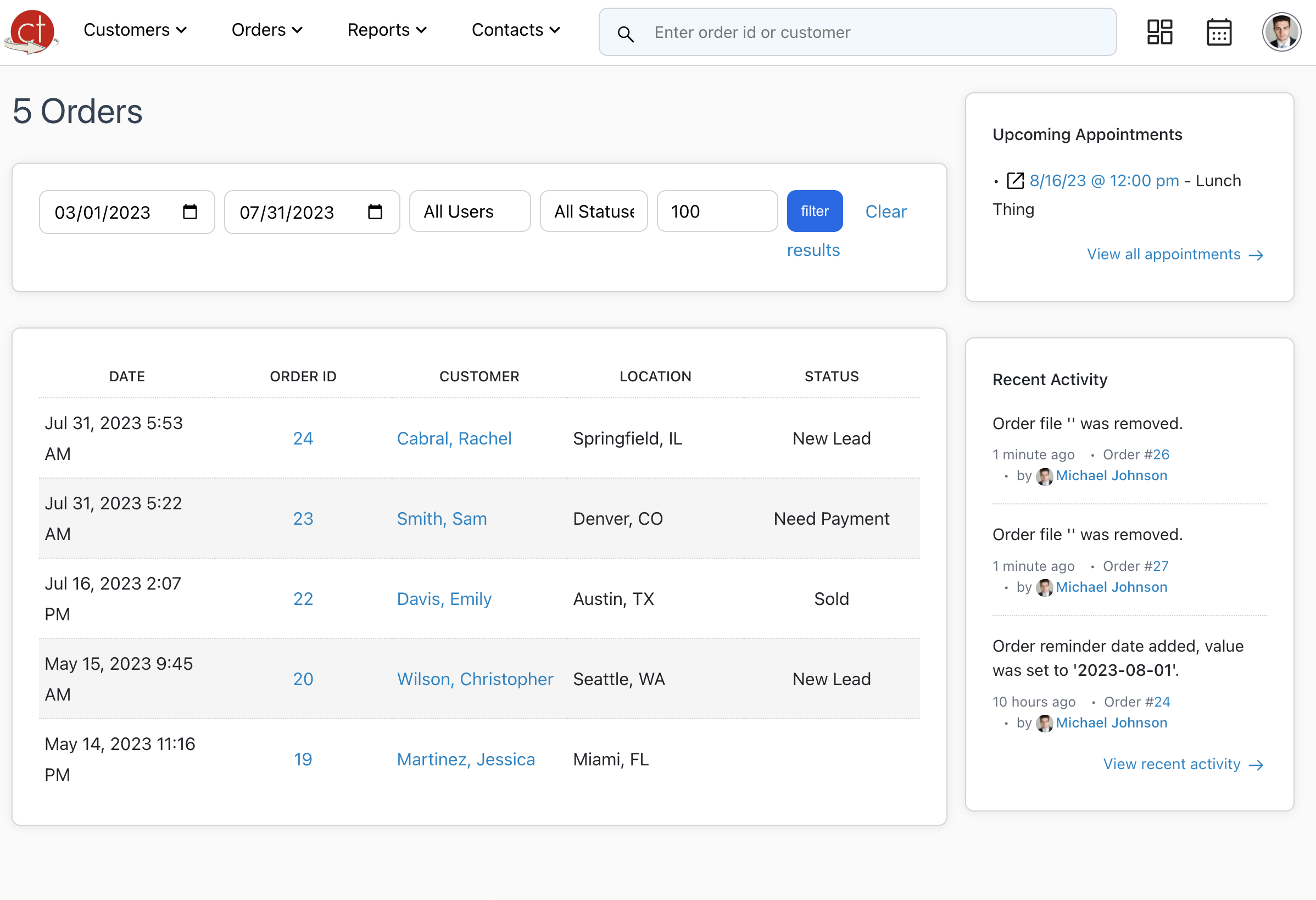 Improved Scheduler
Scheduling and time management are crucial aspects of efficient customer relationship management. We've significantly enhanced our Scheduler feature to empower you with greater control and customization. Enjoy a more intuitive scheduling process with enhanced drag-and-drop functionality, allowing you to effortlessly allocate appointments, meetings, and tasks. Stay on top of your busy schedule and never miss a beat with our advanced and user-friendly Scheduler.
New Help Section
We believe that a successful CRM experience begins with comprehensive and easily accessible support. That's why we've introduced a brand-new Help section, dedicated to providing you with the assistance you need, exactly when you need it. Browse through a rich repository of step-by-step guides, tutorials, and FAQs to quickly find solutions to common queries. Our enhanced search functionality ensures that you can locate relevant resources effortlessly, enabling you to unlock the full potential of our application. Whether you're a new user or a seasoned pro, our New Help section is your go-to resource for mastering the CRM features and maximizing your productivity.
Responsive Web Design
In an increasingly mobile world, we understand the importance of flexibility and accessibility. With the implementation of responsive web design, our CRM application seamlessly adapts to various screen sizes and devices. Whether you're accessing the application from a desktop, tablet, or smartphone, you can now enjoy a consistent and optimized experience. This enhancement ensures that you can manage your customer relationships on the go, with all the functionality and convenience you expect, no matter where you are.
Bug Fixes
We have also resolved a number of longstanding issues that existed previously.
Feedback
Questions? Feedback? Please let us know via our Contact Us page. All feedback is welcome and encouraged!
We are confident that these changes will elevate your customer relationship management experience to new heights. As always, we value your feedback and look forward to your continued success with our cutting-edge solution.